Patients undergoing fertility treatment could soon be receiving their care in brand new, state of the art facilities.
The Hull IVF Unit has submitted an application to East Riding of Yorkshire Council's planning team to build a new, two-storey treatment unit at the Hesslewood Estate, close to the Humber Bridge.
Clinicians working at the Hull IVF Unit say the current unit's location within Hull Women and Children's Hospital is limiting its ability to meet rising demand from NHS and private patients across the region.  A new facility would not only enable the team to continue growing in both the physical and technological sense, but would also provide a better, more sensitive patient experience.
The working relationship between the Hull IVF Unit and the local NHS is a long one and the Unit will continue to work closely with its NHS partners.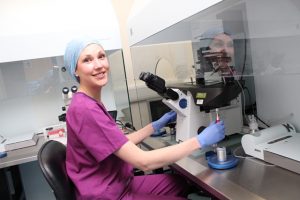 Dr Christine Leary, Consultant Embryologist at the Hull IVF Unit (pictured) says:
"The Hull IVF Unit is one of the most successful fertility treatment centres in the country. We provide over 400 treatment cycles for our patients every year, and our work continues to attract a growing number of patients seeking both NHS-funded and private treatment.
"Our patients come from all across the Yorkshire and the Humber area, so the right location and modern facilities are vital in enabling us to deliver the best possible patient care. After considering various options, we decided that a new, purpose built clinic would be the best solution to enable us to continue our growth and deliver a more suitable environment to meet our patients' needs."
The proposed building would contain state of the art, high tech treatment facilities as well as patient areas, a staff office and facilities, recovery rooms and a spacious waiting area. Dedicated private parking for the exclusive use of staff and patients would also be available.
Dr Leary continues:
"We regularly ask for feedback from our patients and with a satisfaction rating of 97.5%, we know we're providing an excellent patient service, but one thing our patients comment on regularly is the unit's current location within the Women and Children's Hospital.
"Our patients can sometimes require multiple cycles of IVF treatment, and having to walk past lots of new parents and expectant mums can be incredibly difficult to deal with if you're struggling to conceive. A new unit such as the one we're looking to develop, in calm surroundings away from the hospital site, would take away a lot of that angst for those receiving treatment, some of whom may have been trying for a baby for years without success."
Hull IVF Unit's Practice Manager, Pam Andrew, has written to all patients to advise them of the plans and pledged to ensure the move has no negative impact on their treatment.
The planning application will be considered by East Riding of Yorkshire Council and, subject to the necessary approvals, work could begin as early as the New Year and the unit could be operational by early 2020.