A mum has praised Hull's Neonatal Intensive Care Unit after her son was born with a rare condition affecting just one in 5,000 babies.
Harry Smith was born with Hirschsprung's disease, a rare and life-threatening disorder of the bowel.
He was rushed to the Neonatal Intensive Care Unit (NICU) at Hull Women and Children's Hospital and underwent three biopsies, a barium x-ray and a colostomy by the time he was six weeks old.
Now seven months old, Harry is recovering after undergoing "pull-through" surgery to re-section his bowel.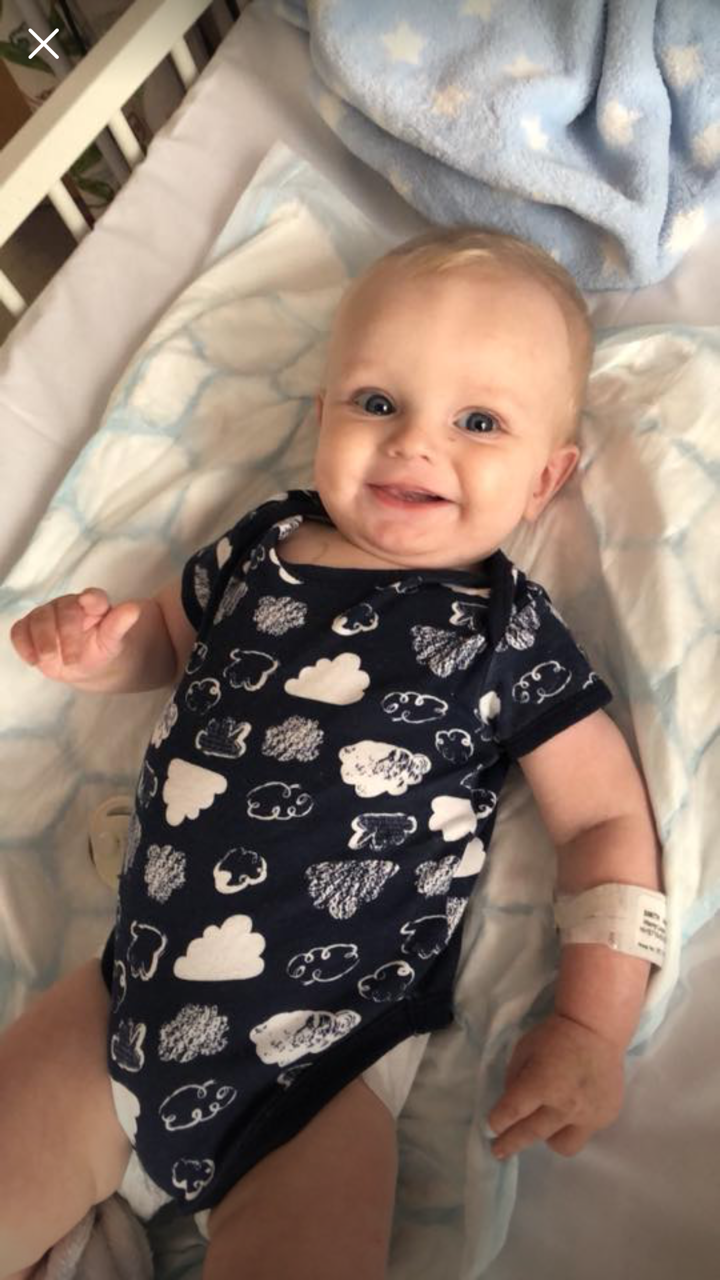 Mum Vicki, 30, said:  "My view is he had this, he had to get it fixed or he would die. And that's why he's here, rolling around on the carpet.
"Babies born with Hirschsprung's disease have a low chance of survival without intervention so, for me, it had to be done."
Hirschsprung's disease is a congenital disorder where nerve cells do not develop through the full length of the bowel. Babies with the condition are unable to push faeces through the bowel in the usual way.
The disease can cause severe constipation or enterocolitis, a serious bowel infection, if it is not identified and treated early enough.
Vicki and husband Mike, who live in Selby and have a three year-old daughter Lily, were overjoyed when Harry was born at York Hospital weighing 8lb 2oz in February.
Only able to manage small feeds, Harry was vomiting them back up again and was taken to the Special Care Baby Unit with a distended stomach.
Symptoms of Hirschsprung's disease in a newborn include the failure to pass meconium, a swollen stomach and vomiting green fluid known as bile.
As Harry had passed a small amount of meconium, the disorder was initially discounted.  An x-ray showed free air in his bowel so he was transferred to Hull's NICU when he was three days old.
Vicki said: "I was able to stay with Harry while he was in NICU and they were really good.
"It was difficult, living 40 miles away and having a three year-old at home, but I was able to stay with Harry and get home when I could."
Consultant Paediatric Surgeon Sanja Besarovic, known to families as Miss B, suspected Harry had Hirschsprung's disease despite him passing meconium.
"Miss B is definitely the person you want to look after your child when they are sick," said Vicki.
Harry was allowed home after nine days after he managed to pass faeces and started tolerating feeds but his parents had to rush him back to NICU three days later when his bowel became blocked again.
Vicki and Mike travelled back and forward to Hull for weeks so Harry could be given enemas to clear his bowel.
None of the biopsies or the barium x-ray provided conclusive confirmation of the condition and, when he was six weeks old, Harry underwent a colostomy to create a temporary opening in his stomach to collect faeces.
It was only then, when cell samples were taken from his bowel during surgery, that a diagnosis of Hirschsprung's disease could be confirmed.
Following the colostomy, Harry started to thrive.
When he was five months old, the affected part of the bowel was removed and the healthy section was connected directly to the anus to allow faeces to be passed, reversing the colostomy.
Harry spent two days in the paediatric high dependency unit at Hull Royal Infirmary before he was transferred to Acorn children's ward for seven days.
Vicki said: "He's doing really well now and we continue to receive support from Miss B when needed. I would just like to raise awareness of this condition through education and give a big thanks to Miss B and her team."