Staff on Acorn Ward at Hull Women and Children's Hospital are preparing to welcome a new teammate of the four-legged variety.
Hull-based charity, Nice2bNice has teamed up with staff on the children's surgical ward to provide young patients with weekly visits from Lewis, the therapy dog.
Lewis, a black Labrador, has undergone months of training and visited more than 3,000 children in schools, colleges and activity groups across the area in readiness for his role.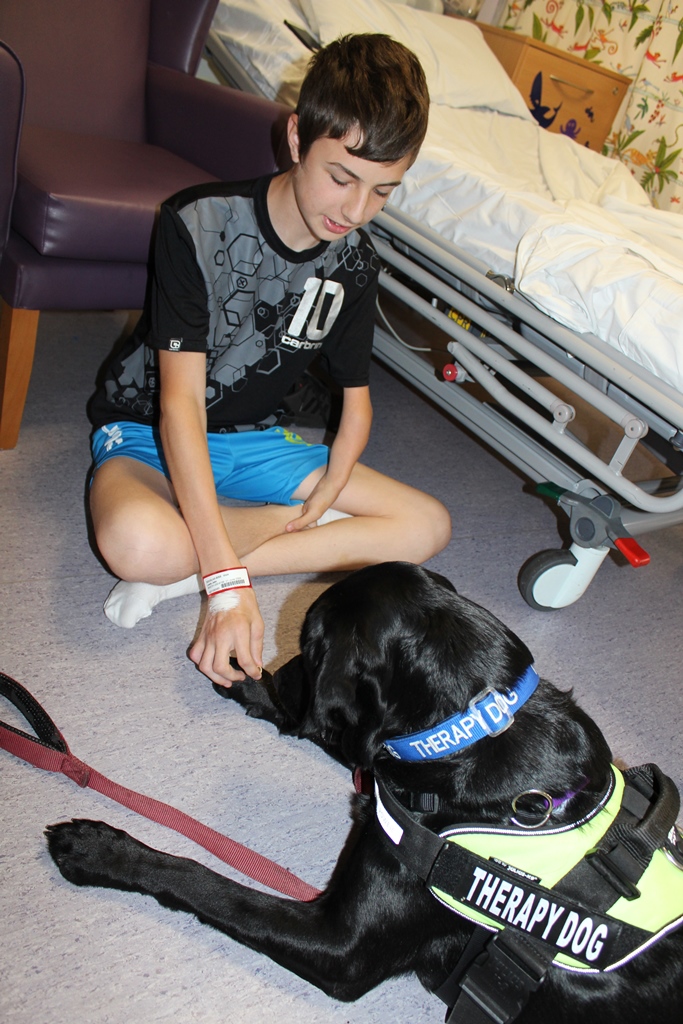 David Freer, Founder of the Nice2bNice charity and Lewis's owner, will accompany him on the visits. He says:
"Nice2bNice is such a big part of my family's life that when we decided to get a dog last year, we wanted him to be able to play a part in the charity too.
"We looked at lots of dogs but when we went to visit Lewis, we knew he was the one.
"The idea is to take him on to the wards and allow him to serve as a distraction for children who are feeling poorly or upset, and to bring a bit of enjoyment for them and their families at a difficult time.
"He began training as a puppy, and now he's at a stage where he's ready to start visiting the wards and bringing smiles to the faces of the young patients there."
Visits are expected to take place weekly in the first instance, with a view to extending the meet and greet sessions to the Paediatric Outpatients department and the young patients on Hull Royal Infirmary's Ward 130 in due course.
Lewis has been independently assessed by a qualified dog behaviourist, he is fully insured for work in hospitals, and all visits are carried out in accordance with the respective health and hygiene policies.
On a recent introductory visit to the ward, Lewis was quick to draw attention, with hospital staff, patients and visitors all making a beeline to give him a stroke and say hello.
Deborah Bristow, Junior Sister on Acorn Ward, says:
"Even from the early visit to the ward, it was clear how much pleasure Lewis was bringing to the children.
"For many youngsters, just having a few minutes stroking or playing with the dog will really make their day. It can help to reduce their anxieties, serve as a calming influence, give them something positive while they're in hospital, and help to take their minds off their surgery.
"We know not all children will be comfortable around dogs and some will not be able to see Lewis for infection control reasons, so we'll always do a review of our patients on the ward ahead of each visit to see if they're comfortable, to check for any allergies and so on.
"What was lovely to see on the early visit was the children taking Lewis for a little walk around the ward. For some whose mobility needs to improve after their operation, he'll be a great incentive for them to get up and get moving, and even for those who can't get out of bed, the visits will just be a lovely surprise.
"He certainly gets people talking and I think the staff are looking forward to the visits beginning just as much as the children!"
David adds:
"We're looking to make weekly visits to fit in with my regular job and according to what suits the ward, so for some children it will be an unexpected surprise, and for those who may have to stay in hospital a bit longer, it will give them something to look forward to if they meet Lewis and know he's coming back again in a few days' time."
For more information on Nice2bNice, visit www.nice2bnice.org.uk