A Cliff Richard fan has raised hundreds of pounds for a breast screening service after wearing a bright pink wig to meet her idol.
Jenny Dickinson, 68, is one of a group of women calling themselves "Cliff's Pink Ladies" on Facebook because they wear pink to every one of the superstar's concerts to raise awareness for breast cancer.
Now, after undergoing surgery twice to remove cysts, Jenny has raised £300 for Humberside Breast Screening Unit, based at Castle Hill Hospital, after she was sponsored to wear her bright pink wig to meet Sir Cliff during his "Singalong with Cliff" at his vineyard in Portugal.
Jenny said: "Cliff knew exactly what I was doing and why I was wearing the wig. He's heard all about it because it was posted all over Facebook and he reads all about what we get up to.
"When he saw me, he just said I looked edible and I got three photographs taken with him.
"I'm glad to have raised the money for the unit but it seems so little after all you have done for me."
Lesley Peacock, programme manager at Humberside Breast Screening, said: "We're really grateful to Jenny for her support.
"Not only has Jenny raised some much-needed funds for us, she's also helped us raise awareness of the importance of women coming for regular screening."
Jenny, who lives in Stoneferry, east Hull, with husband Ron, has seen Sir Cliff hundreds of times in concerts, travelling all over the country to watch him in action.
"He's just the perfect package," she said.
In the 1980s, Jenny underwent surgery at the Westwood Hospital in Beverley to remove a cyst.
She discovered a larger lump in her breast three years ago and doctors discovered it was a Cyst of Montgomery, a benign breast mass, and she underwent an immediate biopsy. Tests showed the cyst was calcifying so she had surgery to remove it from her breast.
Keen caravaners, the couple spent much of their time at Allerthorpe Lakeland Park just outside Pocklington and Jenny came up with an idea to raise money for the unit after one of their friends from the site underwent a mastectomy after being diagnosed with breast cancer.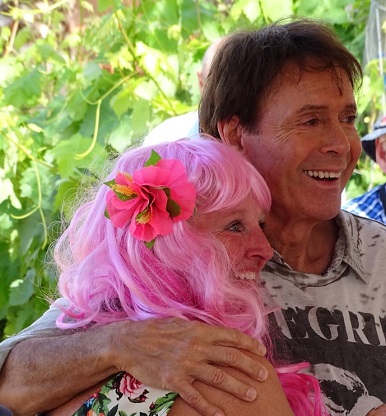 "Every year, Cliff has a signing for his fans at his vineyard in Portugal where you can go and get your photograph taken with him," she said.
"Our friends at the site said they'd sponsor me if I wore my pink wig to go to the signing so that's what I did.
"There were 1,400 people and he posed for photographs with all of us again.
"I've had photographs of me with him but never one showing my face. Now, I've got one face-on with him."