Search for old health artefacts and memorabilia to help celebrate the NHS's 70th birthday
The National Health Service turns 70 years old this year, and local health and care organisations are planning to mark the occasion in style.
The 2018 Health Expo will be a free event taking place on Thursday 5th July, 70 years to the day since the NHS was created. It will be held at the new Doubletree by Hilton on Ferensway, where organisers are seeking to fill the 856sqm ballroom with hands-on displays, a recruitment fair, activities and demonstrations, and an archive display representing the last 70 years of local health history.
Mike Pearson, who maintains the hospital archive at Hull University Teaching Hospitals NHS Trust, says:
"The hospital archive is not something that people see or explore on a regular basis, so this is a fantastic opportunity to be able to share some of our items with the public and, for the older generation, take them on a bit of a trip down Memory Lane.
"We have old uniform, pieces of medical equipment, books and newspaper cuttings to display, as well as more significant items such as a visitors book signed by Her Majesty, The Queen, when she officially opened Hull Royal Infirmary in 1967, and the ceremonial trowel and mallet used by Enoch Powell , Minister of Health, on the laying of the Foundation Stone in 1963. We also have old archive footage from the past 70 years and even further back.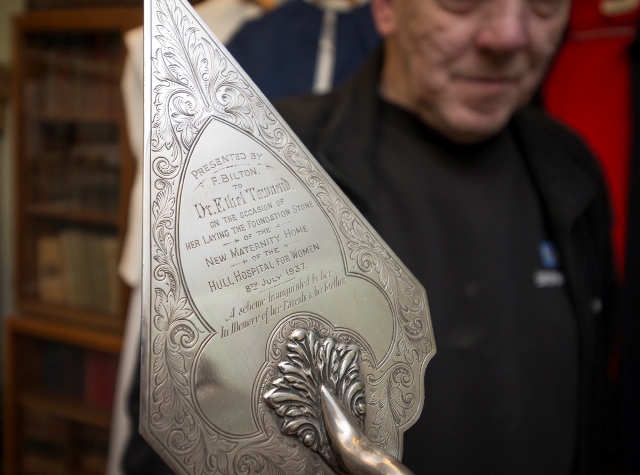 "But we're now on the hunt for anyone who may have additional items which they would be willing to include in our archive display for the day, to complement the items we already have. It could be different styles of uniform, pieces of medical equipment, artefacts, pamphlets or photos which we could use as part of the display, but all items will be returnable.
"With so many people having worked in the NHS over the last 70 years, there are bound to be unusual and interesting things stashed away in people's cupboards or lofts across the area. On such a special and significant occasion, it would be a wonderful thing to share as much as possible with people and show how far the health service has come."
Myles Howell, Director of Communications for Hull University Teaching Hospitals NHS Trust, is among those organising the Health Expo. He says:
"This will be the third year of the Hull and East Riding Health Expo, and also a very special year for us as we celebrate the NHS's 70th birthday.
"The Expo will be free to attend and will be open to everyone to come and celebrate the many ways in which the health service touches our lives, day in day out. More details on what's in store at the event will be revealed over the coming weeks."
If you have something you think would be of interest and you'd be willing to share this with others as part of the Health Expo archive display, please get in touch by emailing hyp-tr.events@nhs.net  Perhaps it's something that has been handed down through the family, or maybe it's something you've hung on to from when you started your own NHS career. Please provide a full description (or as much as you know) and where possible, please attach a photograph. A member of the Health Expo organising team will get back to you in due course if your item is suitable, to make further arrangements.